PizzaRev Now Open
Level 1 Food Court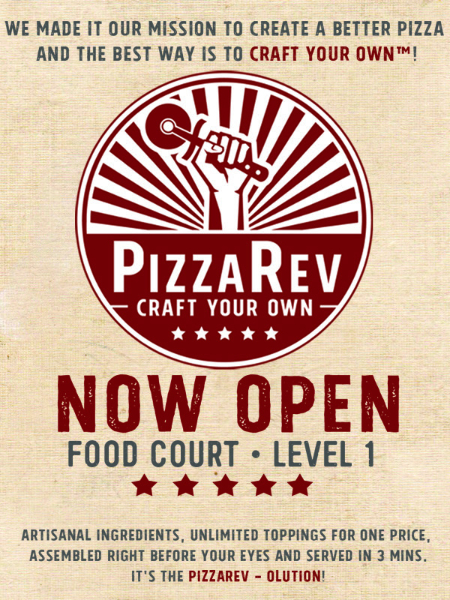 CLICK HERE TO ENTER TO WIN FREE PIZZA FOR A YEAR!
Rockin' by the River
Wednesdays 5:30pm-7:30pm August 17-September 28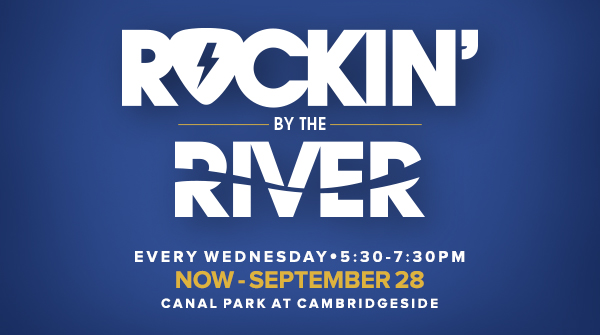 Join us in Canal Park at CambridgeSide for a free concert series, Rockin' by the River! Enjoy live music, lawn games, a beer garden, special store and restaurant offers and more Wednesdays now through September 28 from 5:30 pm - 7:30 pm. Rockin' by the River is presented by CambridgeSide, World of Beer, Intercontinental Real Estate Corporation, and the East Cambridge Business Association.
August 24 - The Silks
August 31 - The McCoy Brothers
More details continue to be added. Check back soon!
Pack-a-Backpack School Supply Drive
Now through September 2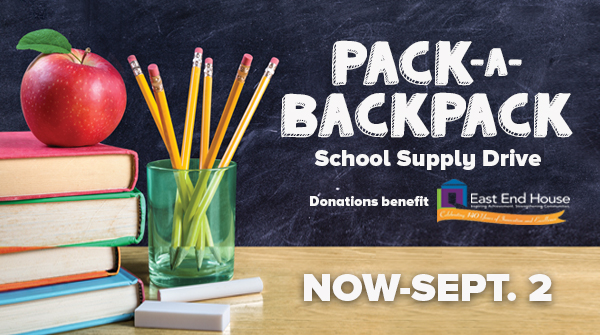 Even a simple notebook can help a child turn a new page. Help fill up backpacks for the children of the East End House now through September 2.
Wish lists include: Backpacks, Pencil Boxes, Pencils, Pencil Sharpeners, Pens, Crayons, Markers, Highlighters, Erasers, Scissors, Book Covers, Art Supplies, Stickers, Glue, Glue Sticks, Notebook Paper, Construction Paper, Pocket Folders, Binders, Paint, Brushes, Calculators, Rulers, Dictionary, Books, Colored Pencils, and Index Cards.
Drop off all new, unused school supply items to the Children's Place located on Level 2.
CambridgeSide Movie Night
Tuesday, August 30, 7pm
Performance: 7pm
Featuring Johnny Fireseed and the Junkyard Dogs
Johnny Fireseed and the Junkyard Dogs uses instruments made entirely from trash, recycling and re-purposed items to perform original music with an upbeat eco-message. Landfills, and "Local Harvested Trash" are the birthplace of their beautiful and sometimes whimsical, professional grade handcrafted "Trash" instruments! In a collaboration of musicians and the artists they design and create their own instruments in their solar powered Massachusetts studio, then hit the road, sharing a unique message of joy, fun and new ways of thinking about waste and consumption.
Movie: 8pm
Movie Hint: Follow the yellow brick road to see the Wizard, but remember to watch out for lions and tigers and bears!
This event is sponsored by CambridgeSide in partnership with the City of Cambridge Arts. For more information, click here.
Job Fair
Thursday, September 15, 2016
Shop for a new career at CambridgeSide Job Fair on Thursday, September 15, 2016 from 4pm to 7pm in the Food Court. Bring your resume for your resume for your chance to meet with retailers, restaurants and more.
Click here for current job opportunities.
Boston Kidney Walk
Sunday, October 16, 2016

Kidney Walk is the nation's largest walk to fight kidney disease. Held in nearly 100 communities, the event raises awareness and funds lifesaving programs that educate and support patients, their families and those at risk.
Join the National Kidney Foundation for their Boston Kidney Walk on Sunday, October 16, 2016 at CambridgeSide - Canal Park. Register today!
Halloween Happenings
Sunday, October 30, 2016
Mark your calendar for Halloween Happenings at CambridgeSide on Sunday, October 30, 2016 and double your trick or treating fun.