Central Intelligence Movie Prize Package
Enter now through June 26, 2016
Enter for your chance to win tickets to Central Intelligence starring Dawyne Johnson and Kevin Hart in theatres now. Enjoy dinner at CambridgeSide before the show with a $50 gift card to P.F. Chang's and Central Intelligence swag! Enter by Sunday, June 26, 2016. Click here to enter. No purchase necessary.
Shop Taste Repeat
Going on Now!

Visit Level 1 center and sample a variety of food and beverages during the month of June. Come Back soon to try something new!
Thursday June 23 4-7pm Hint water
Sunday June 26 12-3pm Bai
All products are available first come, first served, while supplies last.
World of Beer
Opening Summer 2016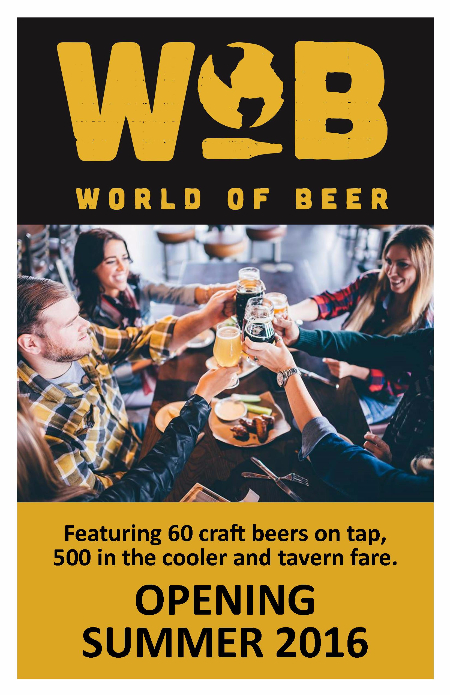 World of Beer will be opening at CambridgeSide this summer. World
of Beer features 60 beers on tap, 500 in the cooler and tavern fare.
PizzaRev
Opening Summer2016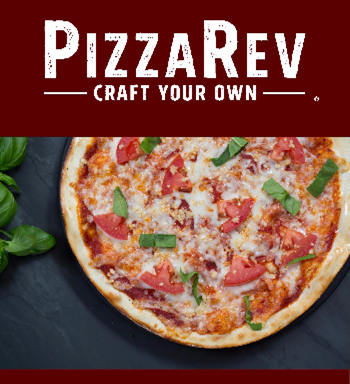 Are you ready for a PizzaRev-olution? Custom personal pizza, artisanal ingredients, unlimited toppings for one price and flame-fired in 3 minutes. PizzaRev is coming the neighborhood and opening their FIRST Massachusetts' location at CambridgeSide's Food Court this Summer!
Run & Ride at CambridgeSide - Sign Up Today
Sunday, July 31, 2016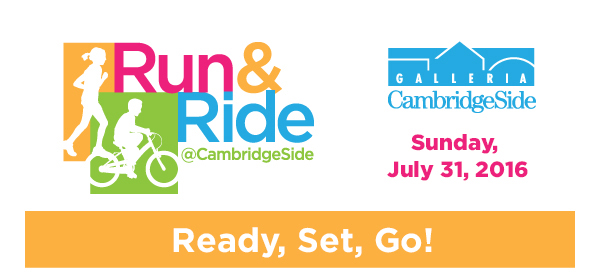 Do you love to ride your bike and run? Compete in the seventh annual, kids only, FREE duathlon with biking and running in and around CambridgeSide!
Run & Ride at CambridgeSide is for kids ages 5-13 years old, with prizes, race t-shirts, giveaways, entertainment and more. Race with your friends and make new friends - sign up for Run & Ride at CambridgeSide today!

Plus Kayak Fun Race for ages 10-13 with an iPad awarded for best time.**
Sunday, July 31, 2016
8:30am Registration - 10am Event Begins
CambridgeSide - Canal Park
100 CambridgeSide Place - Cambridge, MA


Races will not be timed. Course is handicap accessible. Children ages 5 and 6 will participate
in run and only. Helmets are required and must be CSPC cerified - check the inside of your helmet!
All bicycle handle bar ends must be plugged. Limited bicycles will be available.
For more information, please email CSGinfo@NEDevelopment.com or call 617.621.8668.
Parent/Guardian must present photo identification at event and must attend for duration
of event with children.
*iPad awarded to the first place race winner that Runs and Rides for both boy and girl category in
each age bracket. Eight iPads will be awarded. Winner of the Run only, 7 years and older, will be
awarded an alternative prize.
**One iPad for best time for boy or girl in kayak race age 10-13 bracket.
All event elements are first come, first served. While supplies last. Representatives of CambridgeSide
will be photographing and recording video at this event. Your continued presence on the property
implies consent to be videotaped and photographed and for your image to be used for marketing
purposes in print, video, and online.
Event elements subject to change without notice. Event products may contain nuts.
See ShopCambridgeSide.com for complete details.

Halloween Happenings
Sunday, October 30, 2016
Mark your calendar for Halloween Happenings at CambridgeSide on Sunday, October 30, 2016 and double your trick or treating fun.
Boston Kidney Walk
Sunday, October 16, 2016

Kidney Walk is the nation's largest walk to fight kidney disease. Held in nearly 100 communities, the event raises awareness and funds lifesaving programs that educate and support patients, their families and those at risk.
Join the National Kidney Foundation for their Boston Kidney Walk on Sunday, October 16, 2016 at CambridgeSide - Canal Park. Register today!