Walk to End Alzheimer's
Sunday, September 25, 2016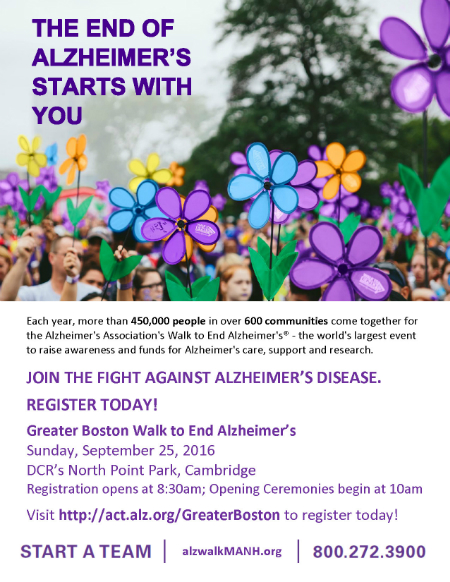 CambridgeSide is pleased to support the Walk to End Alzheimer's. The Greater Boston Walk to End Alzheimer's is the Alzheimer's Association's largest event to raise funds and awareness for Alzheimer's care support and research. Please join us on Sunday, September 25th at DCR's North Point Park in Cambridge.
Oktoberfest 5k
Sunday, October 2, 2016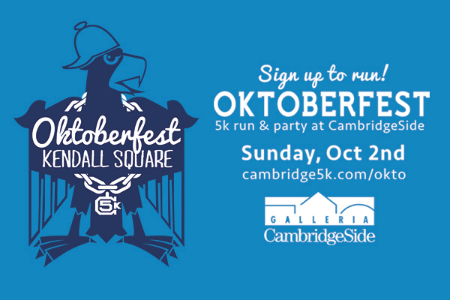 Join us on Sunday, October 2 for a German-themed 5k through Kendall Square to benefit Cambridge Family & Children's Service. Registration includes a race shirt plus free food and free beer at the post-race Oktoberfest party sponsored by Jacob Wirth, Cambridge Brewing Co, Notch Brewing, & Bantam Cider.
For more information or to register, visit http://www.cambridge5k.com/oktoberfest.
Boston Kidney Walk
Sunday, October 16, 2016

Kidney Walk is the nation's largest walk to fight kidney disease. Held in nearly 100 communities, the event raises awareness and funds lifesaving programs that educate and support patients, their families and those at risk.
Join the National Kidney Foundation for their Boston Kidney Walk on Sunday, October 16, 2016 at CambridgeSide - Canal Park. Register today!
Halloween Happenings
Sunday, October 30, 2016
Mark your calendar for Halloween Happenings at CambridgeSide on Sunday, October 30, 2016 and double your trick or treating fun.